Pouakai Crossing Accommodation/Hike
An adventurous group stayed at Patuha Lodge early April this year, two nights stay and one day doing the Pouakai Crossing. An absolute treat having them here. Fun, laughter and friendliness.
Sylvia spent time organising the group and finding a weekend suitable. Following a 50 minute van drive to the start, they used the North Egmont visitor centre for weather information and best route option advice, then off they went on their adventure.
By the time they got to the mountain on the Saturday morning, conditions were cold and extra thermals required, changes in weather throughout the day allowed for good views, a challenge but a fit group of friends saw them complete the walk in good time.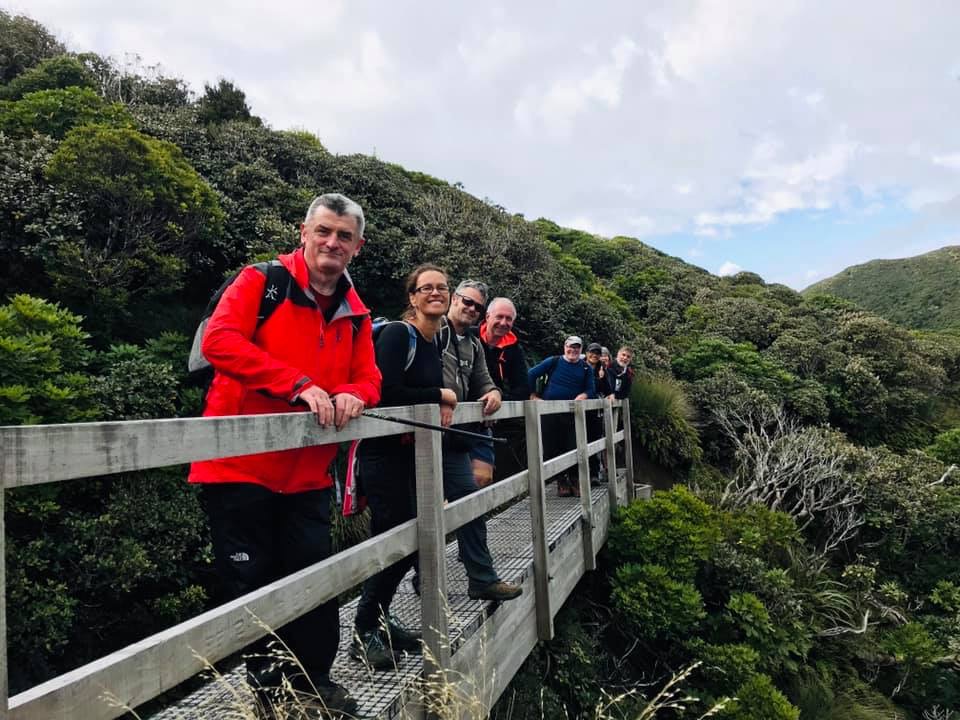 ​
A txt from Pouakai Hut later in the day allowed me time to have the Lodge warm with an evening meal ready following pick up.
This is a beautiful and scenic walk that will give you magnificent views of Mt Taranaki and the surrounding Taranaki region. It has been ranked next to some of the best and most beautiful spots in New Zealand.
Mt Taranaki hiking season is best from December to April
The hike takes 7-9 hours with moderate to challenging terrain, many different landscapes to view on the way.
What our other guests have said
Great accommodation! Beautiful location right in the bush. Peaceful, clean and comfortable. Lovely host! We really enjoyed our stay and highly recommended it !
Elizabeth, Canada
We all thoroughly enjoyed your wonderful hospitality at Patuha Lodge, its an awesome oasis away from the hustle and bustle of the city! and yes we certainly did see the mountain on our return trip home.
Sylvia
I recommend everything about Patuha. I am almost afraid to because something this perfect you want to keep a secret from the marauding hordes but...PLB'nB for us was the ideal retreat for "recharge and go." The Lodge is a beautiful 2km drive from the main road of Upper Pitone...
Nancy, Canada
My Partner & I checked in here for a relaxing time away. From the moment we arrived our hosts Harry & Sally were excellent. Our room was clean, great bed ( one of the best I have slept in) comfy pillows and a decent high-pressure shower. It was nice to switch off from the outside world....
Luke, Australia
I revisited Patuha Lodge in January, this time taking my two daughters with me. We were just there overnight, but we were made so welcome by the lovely owners, made full use of the laundry facilities and the big spa bath, the very good wifi connection - and breakfast was splendid!
Nyree, UK
Read More